Death Certificate Translation
Processing the death of a loved one is always a difficult process; often made worse by the increased bureaucracy and paperwork you may have to deal with. If you live abroad, things can be even more complicated than usual, with translated documents often required as part of the process.
Dialexy can assist by providing certified death certificates translations. Our services help anyone living abroad or in the UK who needs certificates translated to English. If you have a photo or a scan of the death certificate you need translated available now, click the button below to get started.
What is a death certificate, and why is it important?
A death certificate is a document attesting to someone's death having occurred and been registered. Death certificates are usually issued by a Register Office and include details such as: the name and surnames of the deceased, their birth date and age at death, occupation, marital status, causes of death, and place and date of death.
Contrary to what it may seem, death certificates are used in a variety of contexts such as funeral proceedings and dealing with inheritance, but also more positive events such as researching family history.
How do I get a death certificate?
In the UK you can get a copy of a death certificate from the General Register Office online, in-person, or from the local register office where the death was registered. In Scotland, just like birth certificates or marriage certificates, death certificates can be obtained through National Records of Scotland. Death certificates in Northern Ireland can also be requested online.
If the death occurred abroad, then it must be registered in the country where it took place. A death certificate from overseas can then be obtained and be translated to English for registration in the UK through the Foreign and Commonwealth Office (FCO) Overseas Registration Unit. Copies of certificates relating to deaths occurring overseas can also be obtained from the said sources as long as they had been previously registered in the UK.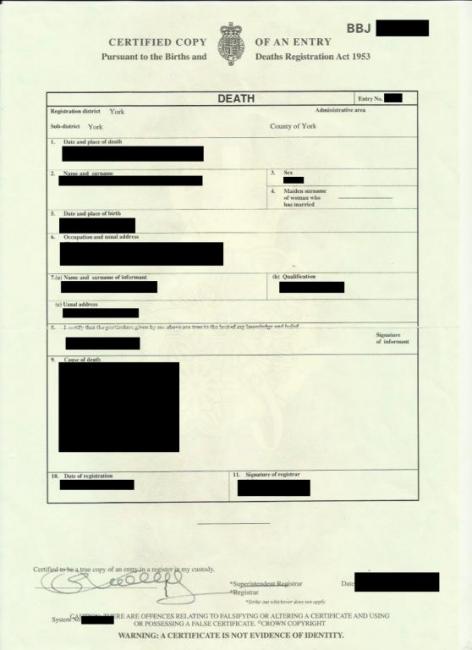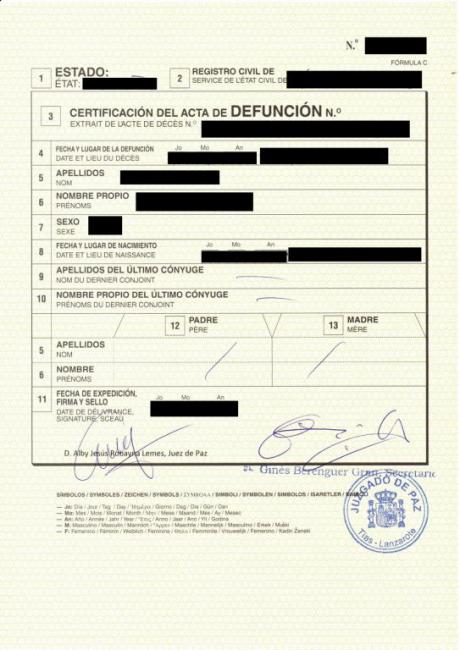 When is a death certificate required?
A death certificate can be useful for many procedures, the most common being:
To deal with the property of a deceased
To access the deceased's will and testament
To access inheritance
To research the family history or genealogy
A family may need to get multiple copies of a death certificate when getting the deceased's estate in order. For example, each insurance company, bank/building society, and pension company you are dealing with will typically ask to have a copy for their records.
When using Dialexy, you will be provided with a certified digital copy of the translated certificate so that you can use it as many times as you need.
When is a death certificate required?
Certified translations of death certificates are most typically required when the death occurred abroad, and the local death certificate is in another language. They can also be required to fulfil the last will of a deceased of getting buried abroad.
Certified translations of death certificates are also essential to deal with the will and property of the deceased in other countries. For instance, if the deceased owned a small house on the coast in Spain, a certified translation of the death certificate will be required for procedures in the country.
Multilingual death certificate translations
In cases where the deceased's estate or assets are spread across various territories with different official languages, getting a multilingual version of the death certificate can be most useful. If the country you're dealing with doesn't issue one, we can help you with our multilingual certified translation service.
How much does it cost to get a death certificate translated?
Certified translations of death certificates typically cost between £40-50 for a fully certified digital copy. At Dialexy, we always provide you with a no-obligation quote.
When you upload your document and select the language it needs to be translated to, we will quickly let you know the exact price and how long it will take.
Want to learn more about obtaining a death certificate?
If you need some more help on how to get a death certificate, here are some informative links which will help based on where in the UK you reside:
If you have any other questions or if you would like to know more about the services we offer, please and we will be happy to help.
If you have a death certificate that you need translated, please click the button below to get started.