Naturalisation Certificate
One of the trendiest words since the Brexit vote, naturalisation refers to becoming or acquiring British citizenship, that is, it is the legal process by which a foreign national changes their nationality for the British nationality. A number of requirements need to be met for this to happen, such as proving knowledge of English and British culture to certain standards, having been a resident in the UK for a number of years and, of course, submit all the required documentation with the application!
What is a naturalisation certificate and why is it important?
A naturalisation certificate is a document issued by the Home Office to certify that you have acquired British citizenship (also called British nationality). This document is very important because it gives you a number of rights, such as voting in general elections, as well as a series of duties as a British citizen.
How do I get a naturalisation certificate?
If you are applying for citizenship for the first time, a good place to start is following the guides published by the Home Office. The process is long and complex but there are many specialist legal services available to help you. If you already are a British citizen but have lost or have had your certificate of naturalisation stolen, you can request a duplicate of your certificate online through the National Archives website.
When is a naturalisation certificate required?
A naturalisation certificate is required in the following cases:
To live and work in the UK free from immigration controls
To enjoy the rights attached to British citizenship
To apply for your first British passport
To apply for your children's British passport
To get married overseas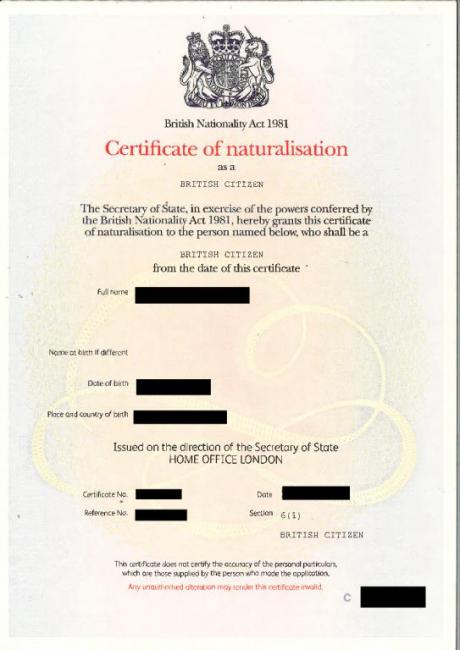 Translating your naturalisation certificate
You might need a certified translation of your certificate of naturalisation when, for instance, your home country allows for dual citizenship and you need to prove that you are a British national. Certified translations of naturalisation certificates are most often used when renouncing a previous nationality, or when applying for dual nationality in another country. Translating a certificate of naturalisation is quite straightforward, hence we can provide the translation in 24 hours and at a cost ranging from £30-£60, depending on language combination.
Want to learn more?