Certificate of no impediment
Were you one of the lucky 25% who found it during their Erasmus year? Maybe you were the one living abroad when you first met? Perhaps it was love at first sight at the workplace? There are as many wonderful beginnings to an international couple's love story as there are global couples. And if yours is heading towards marriage, you will likely need a Certificate of No Impediment as part of your wedding paperwork.
What is a certificate of no impediment and why is it important?
A certificate of no impediment (abbreviated as CNI or CONI) is a document stating that a person is legally allowed to marry abroad; that is, that there are no impediments to the proposed marriage. Certificates of non-impediment can have different names depending on the country where the wedding is taking place (for example, certificate of legal capacity to marry, certificate of unmarried status, certificate of marital status or single status certificate). They all serve the same purpose - stating that you are free to marry. While seemingly simple, the wedding overseas can not happen without this document so make sure you get it!
How do I get my certificate of no impediment to marriage?
In the UK you can get a copy of your certificate of no impediment after 28 days from publication at your local register office. In Scotland, you can also obtain it after 29 days through National Records of Scotland. Once you have obtained your UK no impediment certificate, you may be able to exchange it for a local certificate of the country where you are getting married through the British Consulate in the country, or via the country's Consulate in the UK. If you are a British national living abroad and can't access the local registered office, the British Consulate in your country of residence is your point of contact.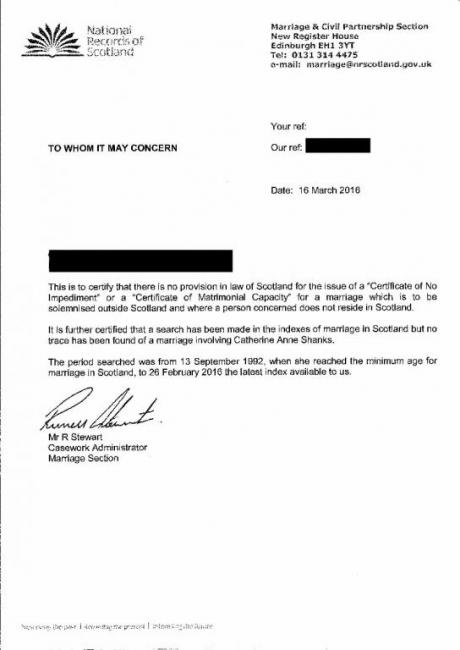 When is a certificate of no impediment required?
Unlike the many uses of other documents such as birth or marriage certificates, certificates of non-impediment are only used when you need to prove that you are free to marry in a country other than your own. However, some countries may not require a certificate of no impediment, for instance, it might not be necessary for getting married in another Commonwealth country, so make sure to check with the country where you get married or use the Getting married outside the UK tool to get started.
Translating your certificate of no impediment
When your certificate of no impediment has not been exchanged for a local equivalent through a consulate, the civil registry of the country where you are getting married will request a certified translation of the English no impediment certificate.
Our first top tip is to translate the certificate of no impediment instead of exchanging it for the local equivalent. We can turn this around in only a few hours while official bodies will take days or even weeks, and the cost won't be higher (typically ranging from £30-£50).
Our second tip is to make sure you get the apostille stamp before translation and use of the certificate. Check with the local civil registry in the country where the wedding is to be celebrated whether this is required.
Finally, apply for your certificate of no impediment 3 months before the wedding. Many countries require the certificate to be less than 3 months old but it is advisable not to leave it for later as the local registry office needs 28 days before being able to issue it!